Deeds of Darkness;
Deeds of Light
Contributors
Donna Fletcher Crow
Donna Fletcher Crow (US) is the author of forty-some books, mostly novels dealing with the history of British Christianity. She is the author of The Monastery Murders series; The Lord Danvers Victorian True-Crime series; The Elizabeth & Richard literary mysteries, GLASTONBURY,A Novel of the Holy Grail and more. www.donnafletchercrow.com
Fay Sampson
Fay Sampson (UK) is a writer of adult and children's fiction and non-fiction, including A MALIGNANT HOUSE, #2 in the Susie Fewings series, a British Crime Club Pick. http://www.faysampson.co.uk
By Donna Fletcher Crow ~ July 1, 2010
What is Edgy Christian fiction, and why does it make for the very best in summer reading? A group of exciting and excited-about-our-topic authors will be exploring that subject this month in a first-of-its-kind blog tour which we invite our readers to follow with as much anticipation as we feel.
The schedule of fascinating topics and the blogs on which they will be appearing on successive dates are listed below. As each author offers their definition of Edgy Christian Fiction, we hope our readers will join in the conversation. Let us know what you agree with, what you disagree with. What you like, what you dislike. And please ask questions. The more the better. The edgier the better.
And let me start off by suggesting one reason why Edgy Christian Fiction makes the best beach reading. Because it's new, unexpected, unformulaic, you won't fall asleep and spoil your summer vacation by getting sunburned.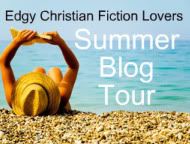 TOUR SCHEDULE


Sun, July 11: Joy Tamsin David, Edgy Christian Romance
http://www.edgyinspirational.blogspot.com

Wed, July 14, Dan Calabrese, Spiritual Warfare and the Edgy Christian Novel
http://www.dancalabresebooks.com

Sun, July 18: Nike Chillemi, Edgy Christian Crime Fiction, http://crimefictionandfaith.blogspot.com/

Wed, July 21, Donna Dawson, Research For Edgy Christian Fiction
http://www.authordonnadawson.com/apps/blog/

Sun, July 25: Janalyn Voigt, Edgy Christian Epic Fantasy Fiction - medieval
http://waysinger.blogspot.com

Wed, July 28: Lisa Lickel, Outside Of The Box Romance
https://reflectionsinhindsight.wordpress.com

Sun, Aug 1: Michelle Sutton, Sensuality in the Edgy Christian novel
http://edgyinspirationalauthor.blogspot.com/

Wed, Aug 4: Sherryle Jackson, Edgy Urban Christian Fiction
www.thefateofthefire.blogspot.com

Sun, Aug 8: Tracy Krauss, Edgy Romantic Suspense
www.tracykraussexpressionexpress.blogspot.com

Wed, Aug 11, Keith Madsen, Edgy Christian Fiction In The Ebook Market
(link to come)
http://www.keithmadsen.com/Wrestling-Alongside-Jacob----a-Blog.html

Sun, Aug 15: Shawna Williams, topic to come
http://shawnawilliams-oldsmobile.blogspot.com/

Wed, Aug 18: Tracy Kraus, Christian Theatre - Not an Oxymoron
www.tracykraussexpressionexpress.blogspot.com

Sun, Aug 22: Shawna Van Ness, Culturally Relevant Characters
http://srvanness.blogspot.com

Sun, Aug 29: Donna Fletcher Crow, Spiritual Authenticity in Fiction
http://www.donnafletchercrow.com/articles.php



Donna Fletcher Crow (US) is the author of forty-some books, mostly novels dealing with the history of British Christianity. She is the author of The Monastery Murders series; The Lord Danvers Victorian True-Crime series; The Elizabeth & Richard literary mysteries, GLASTONBURY,A Novel of the Holy Grail and more. www.donnafletchercrow.com
View Newest Posts | View Older Posts | RSS - Click here to follow